When we started our journey to develop the DosaMaker, we didn't just want to make an appliance that could make a delicious, authentic dosa and wrap. We made it our mission to create an appliance that you would enjoy using everyday. Meet your new partner in eating healthier and feeling better.
"The DosaMaker looks like waffle maker, just shaped differently. What's so special about it?"
We love this question because it means we accomplished our goal of designing an appliance that is familiar and simple to use, even though there's a lot going inside. Here's what makes the DosaMaker a one-of-a-kind addition to your kitchen.
Simple and Easy Cooking System
Our patented closing mechanism assists you in closing the DosaMaker, so you can consistently create evenly spread dosas. Just pour batter, bring the lid forward into the elevated cooking position, and then gently slide back and lower the lid onto the batter. Making dosa is now that simple.
Create Complete Meals
In the elevated cooking position the top cooking plate does not contact the dosa, so you can cook or warm your favorite fillings. Create an egg dosa by cooking an egg directly on top of your dosa, melt cheese for grilled cheese dosa, or warm-up potato masala for a traditional masala dosa.
Thin, Crispy Dosa – Now With Less Oil
Create dosa with an authentic, handmade texture. Our spiral pattern creates the ridges that form when traditionally making a dosa by hand, and our floating hinge design allows the lid to rise.
We have partnered with ILAG Swiss high performance coatings to develop an advanced non-stick cooking surface, so crispy dosas can be made with very little oil. Less oil = healthier dosas.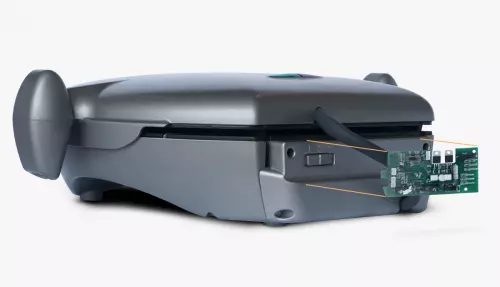 Automatic Temperature Control
Our software-based temperature controller uses a proprietary algorithm to automatically manage temperature, while precision sensors monitor the cooking surfaces. Just select the temperature (low, med, or high) for the batter you are using and let the DosaMaker handle the rest. No more cooling your pan with water between dosas, or burning a dosa because the surface is too hot.
• 1500 Watts
• 3 temperature settings for precise cooking of a variety of batters
• ILAG Swiss Ultimate non-stick coating technology
• Patented closing mechanism evenly spreads batter into a 9″ dosa
• Easy-to-clean; Simply wipe cooking plates with dish sponge and soap